3 Key Design Trends for 2018
by Arium
07 31 2018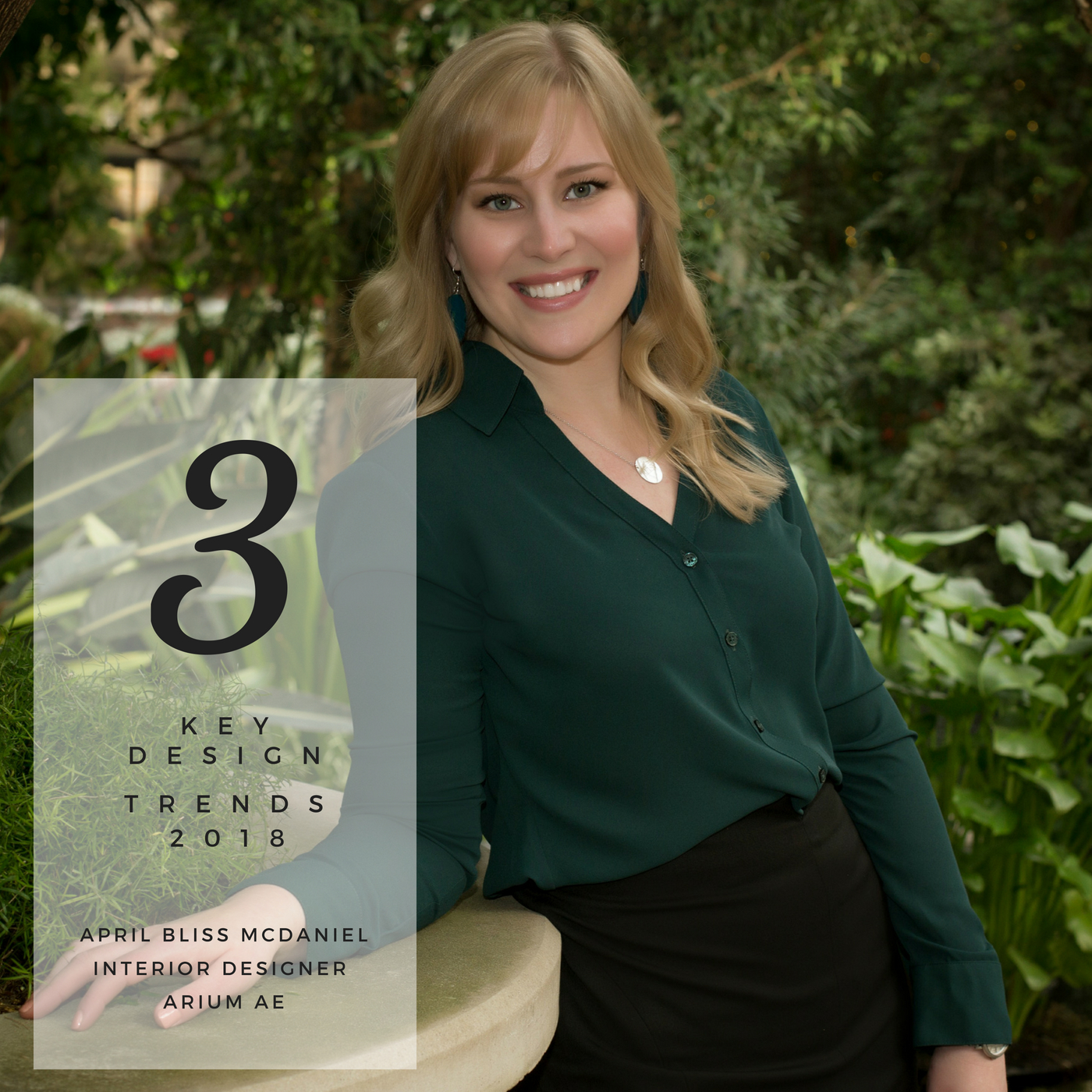 The marketplace often predicts design trends in advance, but these predictions don't always ring true. With upwards of 1M SF in active projects, Arium is able to sample the real-time design trends influencing our region and focus on those poised to make a lasting impact. Coupled with a sharp eye towards industry influencers, our interior designers are providing clients with a fresh yet hyper local perspective. This week April Bliss McDaniel provides her perspective on 3 Key Design Trends taking shape this year.

1: Comfort & Retreat Spaces
This is not a totally new concept, in fact we have seen contract spaces trending this way for a couple of years now. The working office environment has in general improved drastically over the past several years. This could be due in part as a reaction to the workforce's desire for tele-commuting or to the tech industry's demand for a livelier and fun work environment. Whatever the cause, there is a newly discovered desire for employees to leave their cube. Open offices with a sea of workstations is passé. Numerous studies have shown that providing varied environments for work increases morale, productivity and creativity. Comfort and retreat areas provide a place for employees to take a laptop and have a change of scenery during the day. These spaces also provide a place for meetings and informal collaboration. With such an emphasis on networking today, these open and comfortably casual spaces provide a great venue to host and promote social events.
The Bumble Offices in Austin by Mark Odom Studio are a wonderful example of a richly textured flexible social space bathed in natural light. Who wouldn't want to catch up on morning emails here?
https://officesnapshots.com/photos/90515/

Herman Miller Living Office
Hong Kong
https://www.hermanmiller.com/
http://www.marketing-interactive.com/herman-miller-introduces-home-working-experience-office/


2: Integrated Acoustics
Exposed ceilings, polished concrete floors, glass walls, industrial finishes and the increased use of benching systems are all very desirable. However, when used without caution the combination of these trends can wreak havoc on the acoustics of the space.  Controlling noise pollution in an open office environment has always been a challenge.  As such, acoustic quality must not be an afterthought, but should be considered throughout the entire design process. Luckily there are a vast amount of products hitting the market that go beyond the traditional sound masking techniques. Artistic acoustic wall panels, space dividers, and even furniture can greatly cut down on noise pollution through absorption. Designers who pay special attention to the combination of finishes and are active in the furniture selection process can help maximize acoustic quality within the space. Manufacturers like MDC make a wall product called Zintra that offer clever solutions. Buzzispace even makes a light fixture with felt shades!
Acoustical panels can be utilized within a space as a featured design element that defines a space.
http://www.mdcwall.com/home/products/zintra

Introducing a felt shade to an accent light fixture provides layered cues within the space to facilitate collaboration.
http://buzzi.space/category/products/acoustic-lighting/

3: Dynamic Ceilings
Have you noticed that more interest is being given to the ceiling? We are seeing large, over scaled and statement lighting paired with distinctive ceiling treatments and pops of color.

Who says the focal point can't be the ceiling? Brightly colored sound baffles by Armstrong paired with LED drum chandeliers brings the eye above.
140 Bourke Street, Melbourne -VIC
EMKC Studio
https://www.armstrongceilings.com/commercial/en-us/photos-videos/project-gallery/gallery/192461.html#photo392

The hexagon ceiling clouds suspended from the exposed deck not only provides a wow-factor but drastically improves the acoustics quality of a large space. Lounge furniture was centrally arranged around the ceiling pattern creating several Comfort Spaces
Social Solutions, Columbia, MD

Arium AE
https://www.ariumae.com/

Our designers created a unique soffit with recessed lighting to create drama and sophistication to this conference room.
Abrams Development Group, Columbia, MD

Arium AE
https://www.ariumae.com/

Our client wanted their corporate office to showcase the type of quality that can be found in their building properties. Multiple layers of ceiling treatments and lighting creates a striking lobby interior.
Abrams Development Group, Columbia, MD

Arium AE
https://www.ariumae.com/

Our goal as designers is to enhance our end-users' experience in their space. Thinking beyond basic and providing improved functionality and a twist aesthetically can do just that. Comfort & Retreat spaces, integrated acoustics, dynamic ceilings are not just temporary fads that will be out next season but are truly environmental enhancements shaping our workplace that will transcend 2018.
April Bliss McDaniel
Interior Project Designer
410.730.2300
aprilm@ariumae.com