Arium AE Receives NAIOP Maryland Best Interior & Best Renovation Awards
by Arium
05 13 2022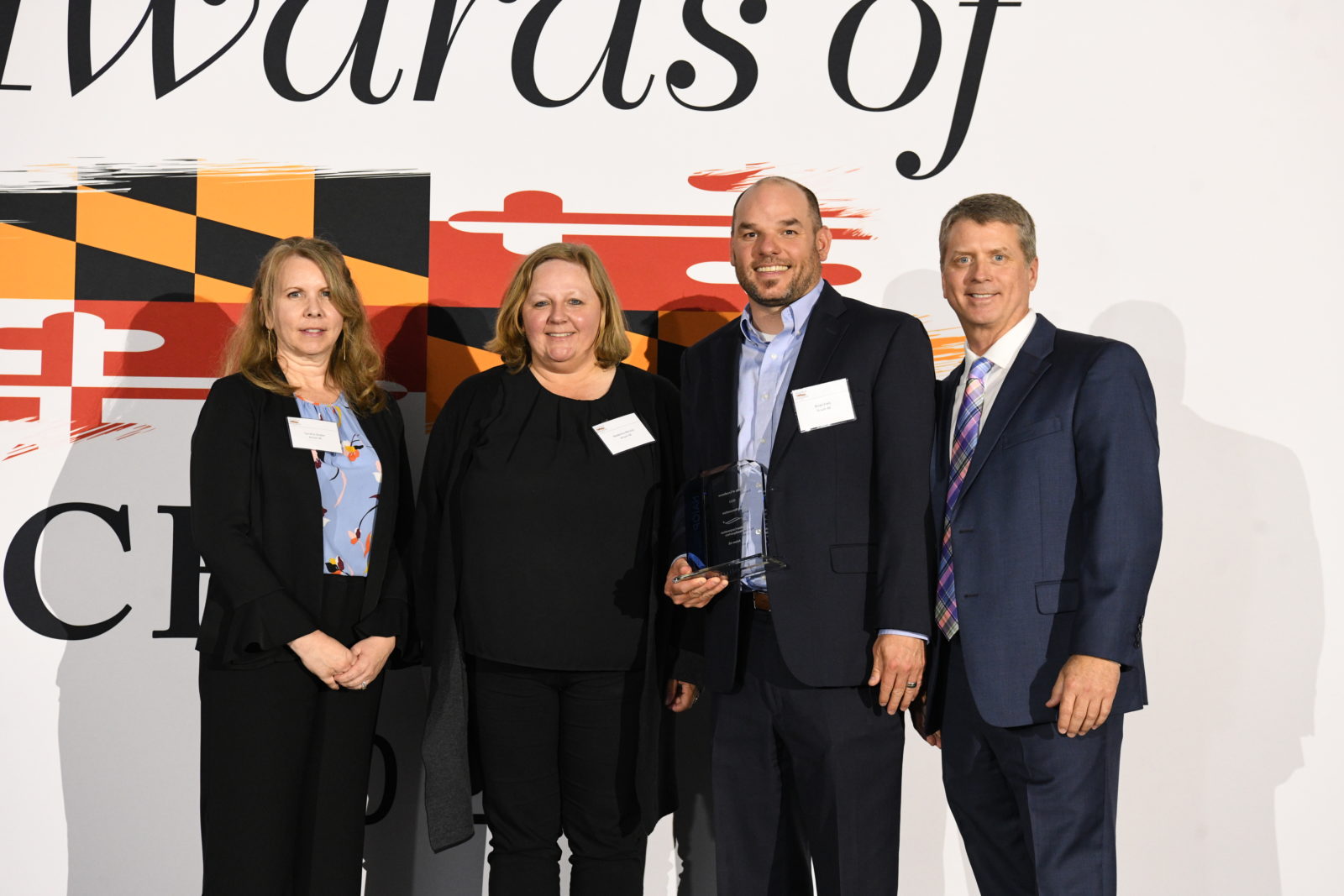 Arium AE, LLC (Arium), a multidisciplinary architecture and engineering design firm that has served the Mid-Atlantic region from its Baltimore-Washington office for over 30 years, was honored at NAIOP Maryland's Awards of Excellence held on May 5, 2022, at the Hyatt Regency Baltimore Inner Harbor.
NAIOP Maryland honored ten different companies and seven commercial real estate professionals in 12 separate categories at its bi-annual event. The program celebrates and recognizes the innovative achievements of regional commercial real estate developers, as well as companies and professionals that service the industry throughout the Maryland region.
Twelve award categories were presented for innovation and achievement. Arium won the award for Best Interior for Tenable Headquarters in Columbia, Maryland. Arium provided interior architecture, interior design, and engineering design services for Tenable's 150,000 sq. ft. six-floor high-tech office space. Tenable, the Cyber Exposure company, expanded its Maryland presence with the development of a new corporate headquarters in an urban-style campus in Columbia's new Merriweather District. Breaking traditional corporate office architecture molds by challenging all that is typical, the design created a unique collaborative work environment with no single layout duplicated between the six floors. Each workspace is personalized by intentional variations in office architectural stylings, themed finishes, unique specialty lighting and acoustical treatments, glass front offices, and workstations along the perimeter to allow for natural light throughout.
Arium also won an award for Best Renovation for Fireline Corporation Headquarters in Baltimore. Fireline Corporation is a provider of fire protection services and has been a family-owned business serving the Mid-Atlantic region since 1947. Arium provided full architecture, interior design, and MEP engineering design services for this phased project involving a complete interior demolition and renovation of multiple industrial buildings, including the conversion to open administrative offices and training rooms. Arium utilized an adaptive reuse strategy and conceived a cost-effective and environmentally responsible approach. Fireline's brand is emphasized through bold pops of red in paint, furniture, millwork, flooring, and lighting fixtures. The branded campus buildings provide wayfinding and create a significant street presence.
"It's an honor to have won NAIOP's Best Interior award for Tenable Headquarters and I'm extremely proud of our talented team. In keeping with the vision of the Tenable's culture, the workspace was designed with placemaking, collaboration, and individualized flexibility in mind. Tenable's brand was a common thread woven through a carefully curated collection of workspaces on each floor. The design team developed a storyboard to visualize and create 28 different workspaces across six floors; each workspace had a defined identity. The result is a corporate headquarters that feels like a collection of villages providing an experiential sense of wayfinding. The space provides an unforgettable introduction of the firm's culture to clients while serving employees with a unique work environment," said Brian Frels, Principal at Arium. "In addition, the award of Best Renovation for Fireline Corporation was a capstone to four years of work. The adaptive reuse project showcased the intrinsic value of the built industrial complex and illustrated the client's rich history of fire protection services to our community."
Arium AE is a regional leader for commercial office, SCIF, industrial, breweries, healthcare, educational, retail, and adaptive reuse projects. Arium works for a wide range of the most demanding clients in the area, from the largest REITs to small developers and individual tenants. Arium's understanding of building typologies and their effective working relationships with local jurisdictions ensures an exceptionally efficient permit and occupancy process. Their integrated design approach balances functional solutions and high aesthetics through outstanding services tailored to their client's unique needs.