CMIT North High School
by Stephanie Bounds Nunn
04 03 2018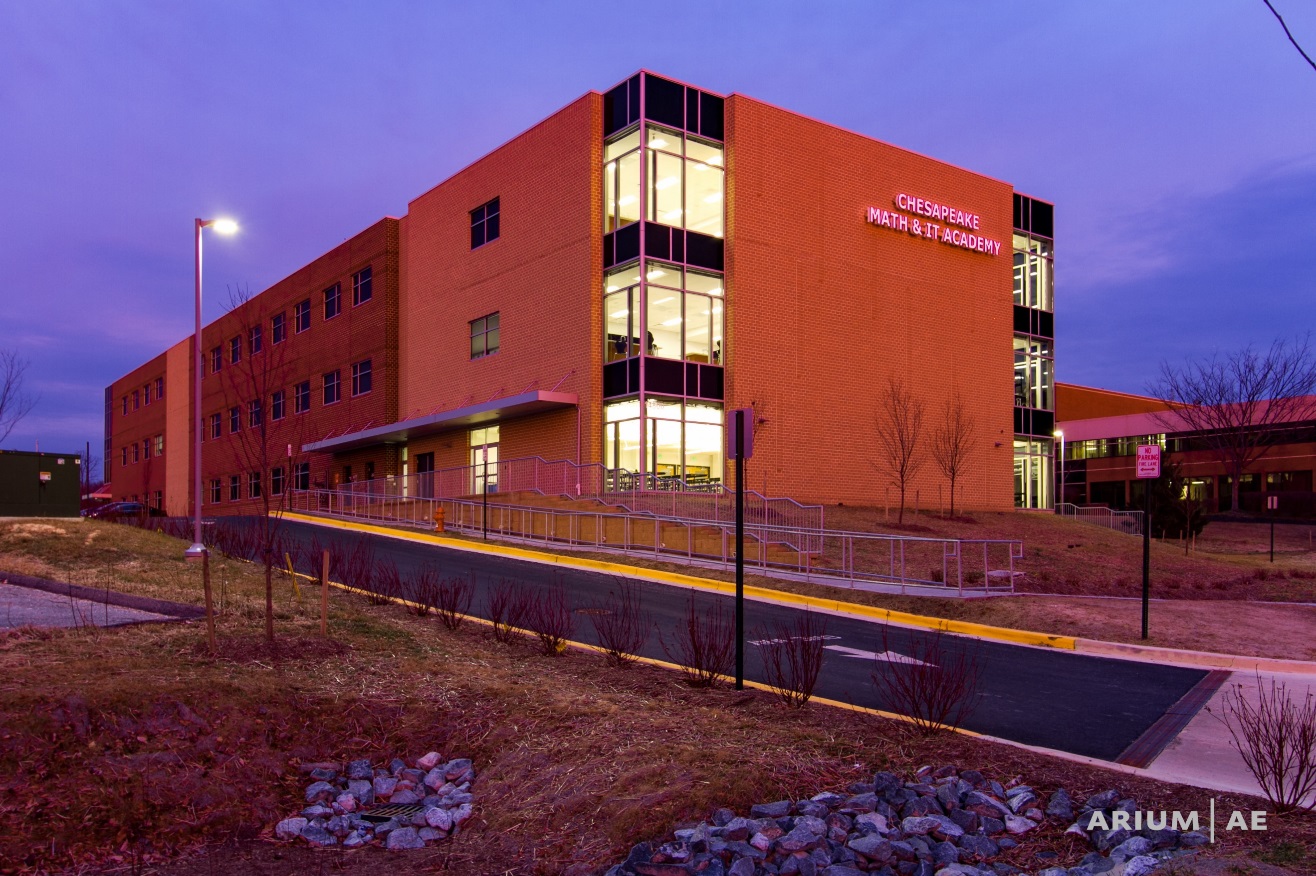 Chesapeake Math & IT Academy; As the sunset lingers on the doors, and brilliant minds get to rest.

Since 2009, Arium AE and Chesapeake Lighthouse Foundation (CLF) have worked together to take existing vacant flex warehouse/office buildings and convert them to exciting, vibrant schools for Kindergarten through twelfth grade.

But in summer of 2015, CLF learned that there was an undeveloped site for sale that was immediately adjacent to one of their existing schools. For the first time, Arium AE had the opportunity to design a site specific building uniquely detailed for CLF's specific needs. Over the next year, Arium worked with CLF and Bohler Engineering, to design a new 3 story, 80,000-square-foot building to house the expanding CMIT North High School.

As a leftover parcel from the development of the rest of the corporate park, the uniquely shaped site presented a number of challenges and opportunities. Utilizing the sites restrictions, Arium incorporated a sharp bend into the building as a design feature to allow the building to nestle perfectly onto the site.

Arium also allowed the interior functions of the school to telegraph onto the façade and influence the massing of the exterior. The gymnasium anchors the building at one end while the cafeteria and science labs provide an transparent focal point on the street side of the building.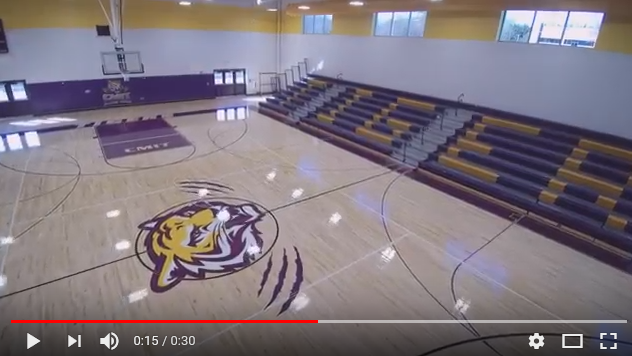 Don't miss this drone video of the facility posted Here by the school.
As with any school, the most important aspect, is to create functional yet exciting teaching environments. Arium distributed the classroom types across the three floors based upon the unique STEM charter program that focus on mathematics and information technologies. The first floor housed common areas such as the school's administration offices, nurse's suite, cafeteria and other common curricular classrooms for all grade levels such as robotics, art, and music. The second and third floors provided general classrooms as well as dedicated science labs for biology, chemistry and physics. To assist with wayfinding, each floor's color palette was derived from one of the schools colors – purple, blue, and gold.
Construction started in late 2016 and continued through the summer of 2017. By following a very aggressive schedule, and regularly " thinking outside of the box," KasCon Inc. was able to construct the shell building and complete the interior build out in less than 12 calendar months. The school opened its doors on September 5th in time for the 2017-2018 school year.
While it's not uncommon for similar public facilities to take upwards of 4-5 years to complete, this new high school was conceived, designed, constructed and opened it's doors to students in 2 years.
After just a few months to catch our breath; Arium AE and CLF have already started working on the next project – CMIT South Elementary will be located in Upper Marlboro.
Stephanie Bounds Nunn
Principal