Arium AE Celebrates its 35th Year in Business
by Arium
04 14 2023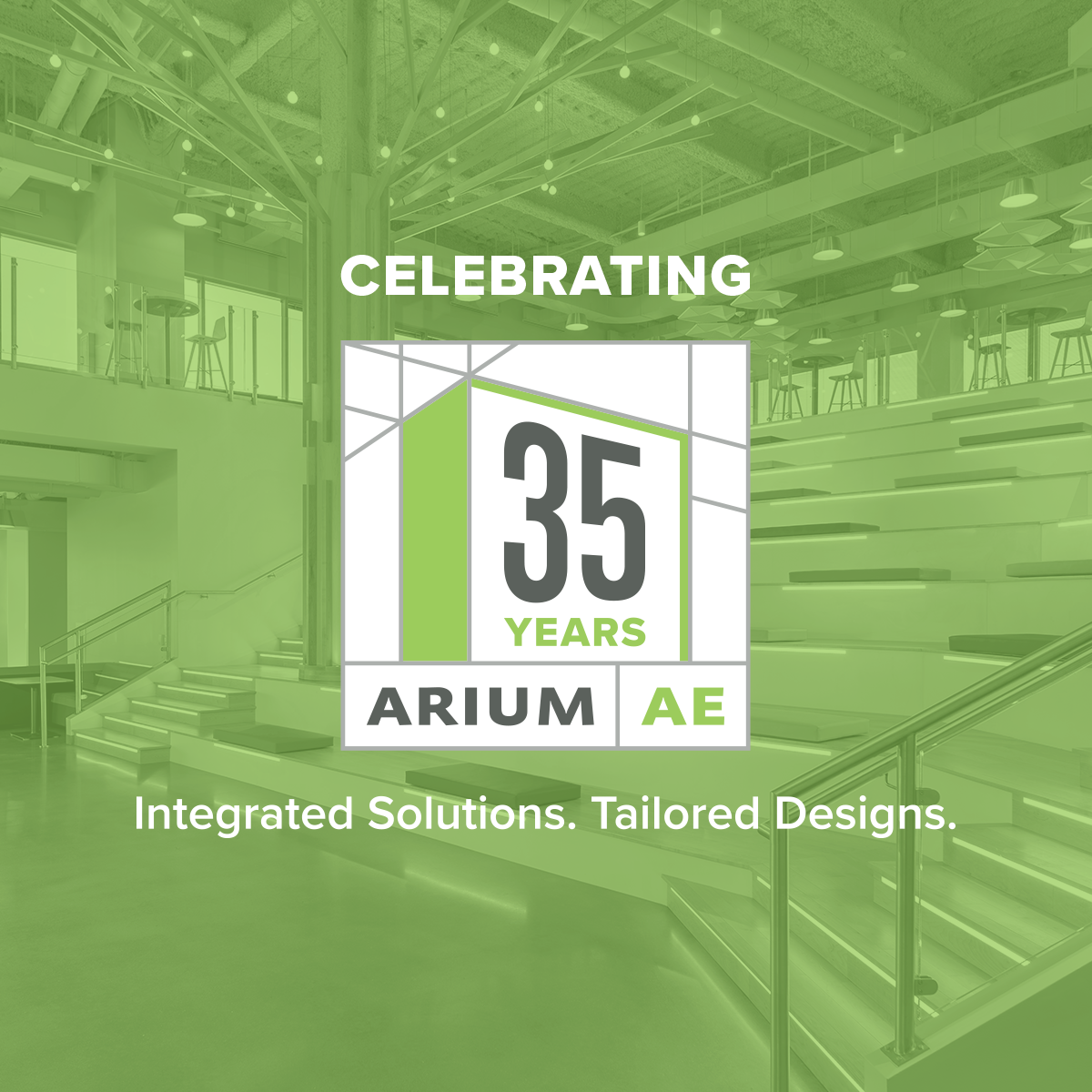 Our integrated solutions and tailored designs are the fabric of our continued success.
As Arium AE commemorates its 35th year in business, reflection on our journey, growth, and achievements is essential. We take great pride in our legacy and impact on the community, industry, and clients.
Founded on July 1, 1988, by architects Steve McLaughlin and Tim Sosinski, Arium has built an extremely successful regional practice over the past three and a half decades based on exceptional customer service and expert contributions toward the built environment. Through a multi-discipline studio that combines architecture, MEP engineering, interior design, planning, and green design professionals, we have worked tirelessly to achieve high levels of collaboration delivered to clients through increased efficiency and accuracy. Arium's repeat client base is expanding well into Northern Virginia and across the Mid-Atlantic as the capability of this team becomes known.
We are celebrating a new era with exceptional leadership.
In 2000, as a recent college graduate, Stephanie Bounds Nunn joined the firm and became a licensed architect six years later. Stephanie grew into a lead Project Management role, advancing the firm's technical design standards and training programs, becoming a Senior Associate by 2015. In 2005, experienced engineer Scott Walthour joined the firm and led the development of its integrated design model by establishing the MEP engineering department. Architect Brian Frels, a strategic hire for Arium, joined the firm in 2012 and spearheaded an office-wide rebranding effort designed as a collaborative effort to celebrate the firm's strengths. After years of strategic planning, in 2017, Stephanie, Scott, and Brian officially became owners of the firm as the founders entered retirement.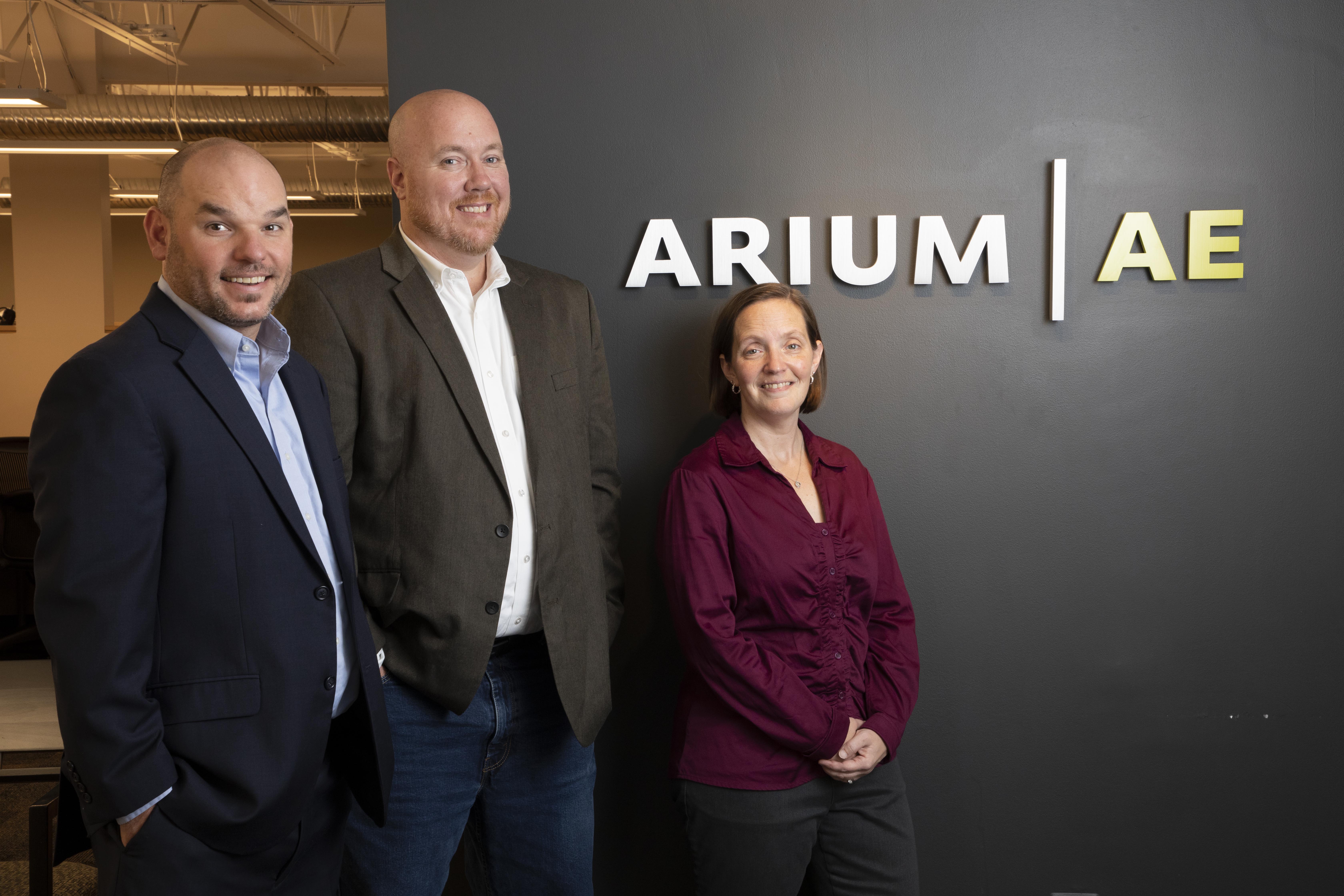 Pictured, left to right, Brian Frels, Scott Walthour, Stephanie Bounds Nunn
We are celebrating new growth.
Under new leadership, Arium has enjoyed 12% average yearly growth since 2017 and, in 2021, rose to a #3 ranking on the Baltimore Business Journal's Largest Interior Design Firms in Greater Baltimore. The BBJ has recognized the firm in the Top 10 List for the past ten years. In 2022, with 38 employees and a 10.5-year average employee tenure, we expanded our Columbia office footprint by 25%, hired our first Virginia employee, and completed 7.7 million total square feet of projects. Today, with 18 Architects, 12 MEP Engineers, 5 Interior Designers, and permit expeditors all in-house, we are actively working throughout the Mid-Atlantic region. We are due to complete 2.5 million square feet of new construction this year and, to date, have our largest 980,000-square-foot speculative warehouse project in design.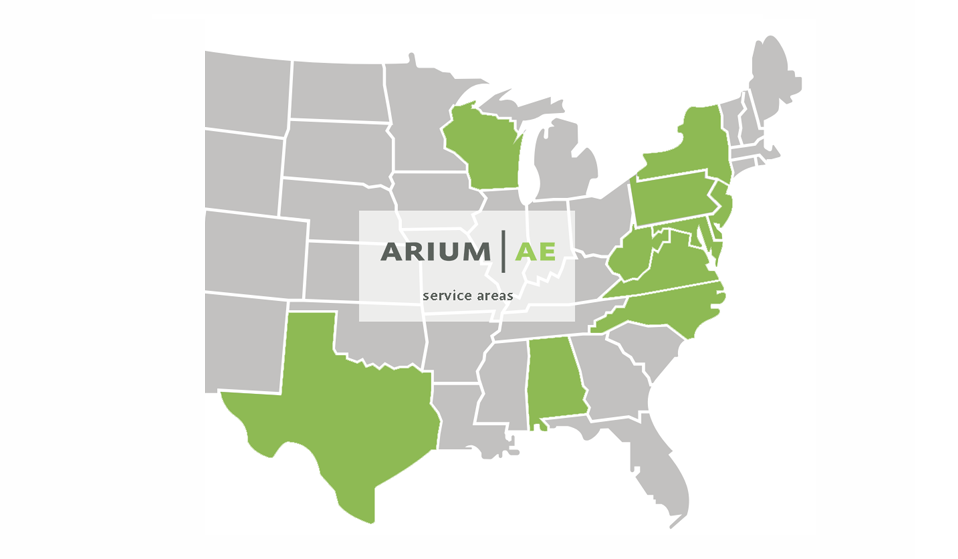 Arium AE's service areas include New York, Pennsylvania, New Jersey, Maryland, Washington D.C., Delaware, Virginia, West Virginia, North Carolina, Alabama, Texas, and Wisconsin.
Arium's broad portfolio of work covers a diverse mix of project types which helps to ensure our stability across market fluctuations. This includes corporate office and tenant planning, government and mission-critical, biotech and health care, institutional and educational, industrial and warehouse, retail and restaurant, and mixed-use facilities. In 2022, Arium was awarded the NAIOP Maryland Award of Excellence for Best Interior for Tenable Headquarters, a 150,000 sq. ft. six-floor high-tech office space in Columbia, MD, and Best Renovation for Fireline Corporation, a 15,667 sq. ft. three-building industrial campus renovation in Baltimore, MD. In 2023, Arium was awarded the design for a 60,000 sq. ft. Hindu Temple in Ijamsville, MD, which will include a 36 ft. deity, North America's largest of its kind.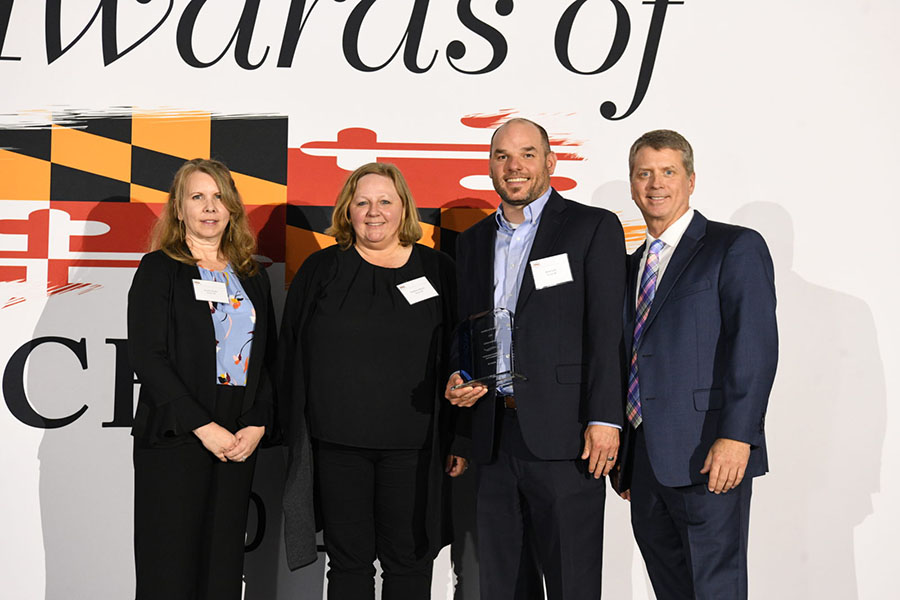 Arium AE receives the 2022 NAIOP MD Award of Excellence for Best Interior and Best Renovation