<!====================== HEADER BLOCK =======================>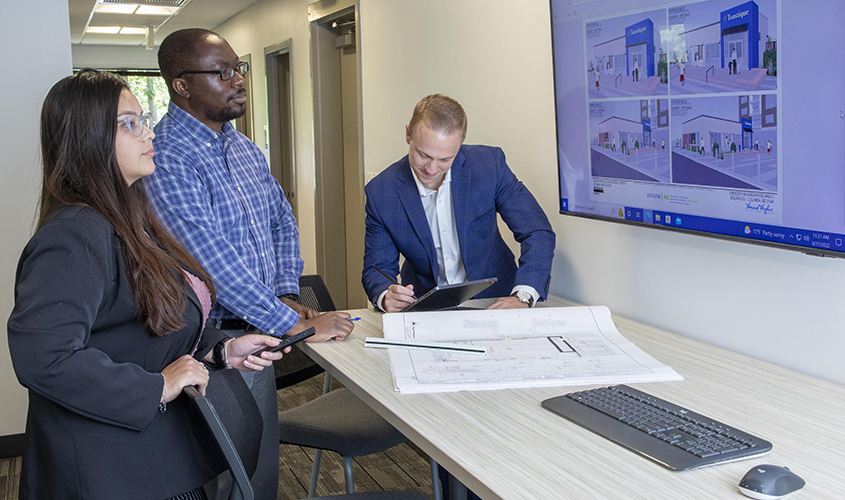 Our thriving, financially stable, and growing practice is actively seeking new team members. Arium AE offers outstanding opportunities for architects, interior designers, and MEP engineers who have the energy, entrepreneurial spirit, and passion to dive into our dynamic, fast-paced, collaborative, client-centered firm.
<!====================== MAIN PAGE CONTENT =======================>
New staff make important contributions to exciting projects from for their first day here, and enjoy the benefits of joining a family-owned, family-friendly firm that is deeply connected to our regional community and committed to the well-being and professional growth of each team member.
Check out our video, A Day in the Life at Arium AE, highlighting a few of our staff members on a typical day at Arium.
To explore opportunities at Arium, email an inquiry or forward your resume to arium@ariumae.com.
Philosophy & Approach
Founded in 1988, Arium AE has experienced steady growth and built a strong reputation as a leading firm in our region thanks to a solid foundation of satisfied clients and an efficient, effective process that allows us to produce outstanding work cost-effectively and quickly.
Rather than seeking design awards and high visibility, Arium has risen in stature based on our long-term relationships with a diverse portfolio of satisfied clients. We emphasize cutting-edge service and timeless design and are thought leaders in processes that produce quality results at lower costs.
Founded by combining the thriving practices of Tim Sosinski and Stephen W. McLaughlin, Arium was among the earliest adopters of CADD and continues to be ahead of the pack with LEED projects and as an early member of the U.S. Green Building Council. We utilize BIM, and our integrated design process allows for close coordination of critical disciplines and more responsive delivery.
Expectations & Benefits
A passion for meeting client needs, strong communication and organization skills, and an entrepreneurial spirit—as we build the Arium team for the next 20 years, we seek staff who take personal responsibility for their work, and we aim to provide compensation and benefits that encourage them to stay for the long term.
Over half our current staff members are women, and many staff members take advantage of our family-friendly policies to work at home or part time. We have a very strong EEO record. We offer health insurance, disability, cell phone, fitness benefits, a 401K plan, 14 leave days in the first year, and have found a way to give bonuses even in some of the toughest years of the economic downturn.
Arium's systematic support structure allows staff to concentrate on project excellence, and we expect all staff to have client contact and take personal responsibility for their work. A passion for meeting client needs with strong communication, organization, and an entrepreneurial spirit are essential.
Culture
Every member of the Arium team understands that they are responsible for the firm's success—and that the firm expects them to have a rich and rewarding life outside the firm. Unique among successful design firms, we've found a way to balance these contrasting expectations and build a thriving firm that feels like family.
We understand that great design doesn't happen in a bubble and that building a long-term team requires happy staff. The demand for personal responsibility and focus in the office is very high, but we also expect our team members to have a rich life outside of the office. This balanced philosophy grew out of the approach of our founders, who strongly believe it's possible to balance professional focus with personal interests and satisfying personal relationships.
Community
A wide array of volunteer activities allows our firm and staff to work for the benefit of our community and the larger world. Arium staff members are encouraged to help us shape the firm's community-based initiatives.
Recent examples of Arium volunteer and community service include our work on planning for Downtown Columbia, design work for the expansion of the New Hampshire Avenue Moslem Community Center, and the design of the new Howard County Astronomical Observatory. In addition, we have done significant work at substantial discounts for a host of non-profits and religious organizations. Recently our staff members served on:
Howard County Public Engagement in Land Use Task Force (PELU)
The Johns Hopkins Family Advisory Council
American Society of Mechanical Engineers (ASME) - Board of Governors
Howard County Aging in Place Committee
Leadership Maryland Board and Program Committee Chair
ASME - National Science Funding (NSF) Task Force
Howard County DPZ -Downtown Columbia Focus Group
Howard County DPZ - Design Advisory Panel Planning Committee
GGP's Moderate Income Task Force
Full Spectrum Housing Coalition
Columbia Housing Corporation, Board
Columbia Homes Housing Inc., Board
Perpetual Revolving Fund, Chair and Board
Every month Arium hosts a casual work day that ends with a happy hour. To participate, employees collectively select a local charity and each provides a small donation. The firm has raised and contributed thousands of dollars over the years for a number of different organizations.
Opportunities at Arium
We are currently actively seeking registered architects and engineers with strong technical experiences in the markets we already serve and are open to individuals who can help us expand into new markets. Our current personnel wish list includes professionals with strong leadership abilities in the areas of:
Electrical Engineering
Mechanical Engineering
Architecture
Interior Designers capable of leading new divisions
If you are capable of leading an all-star professional team, please email an inquiry or forward your resume to arium@ariumae.com.