Commercial Design Trends for 2023
by Arium
02 14 2023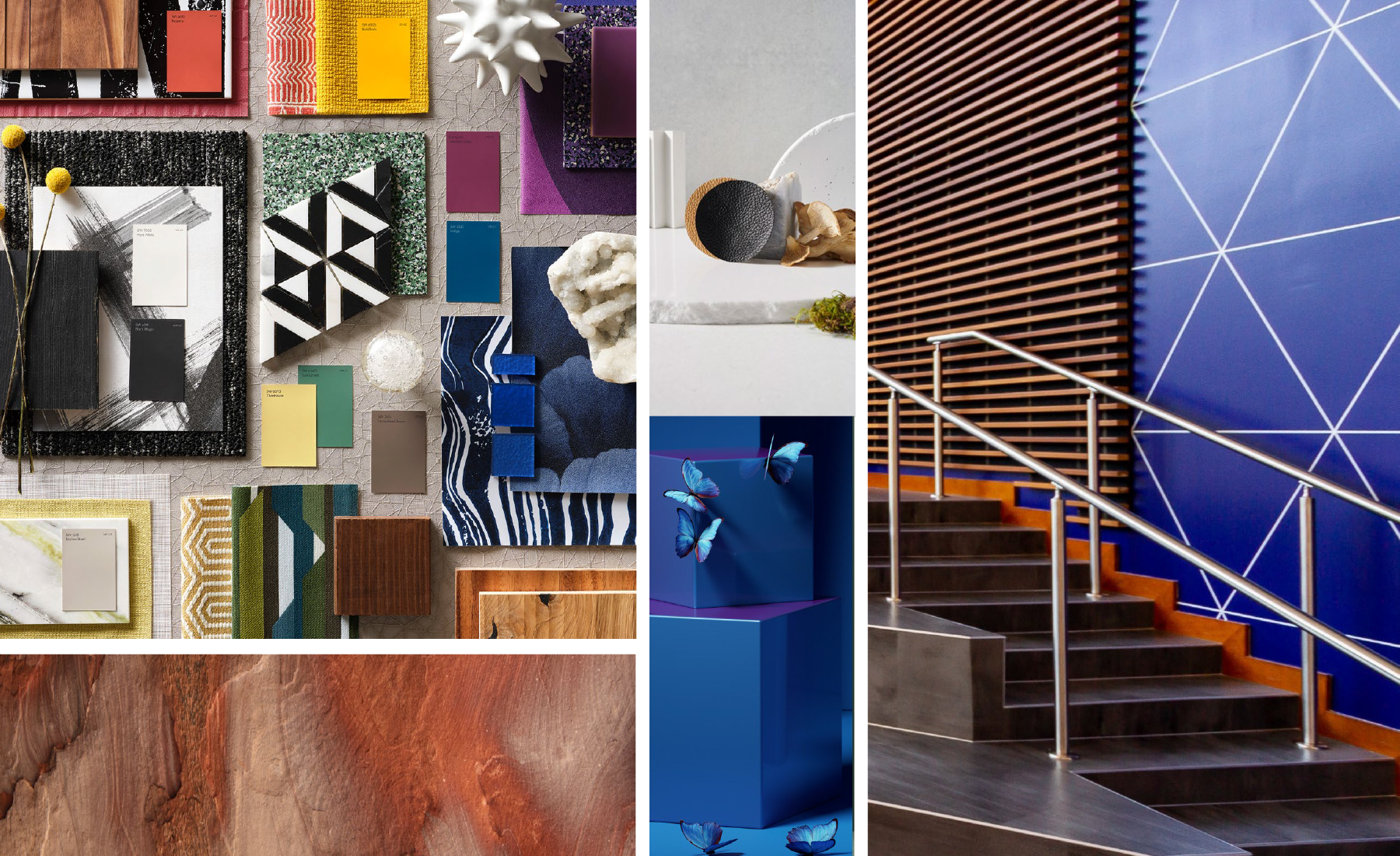 Like all disciplines of design, the commercial sector is constantly evolving. We know that what is popular today can be dated in a month. A good design captures the latest trends and incorporates them into a timeless and classic design. As we embark on 2023, Arium AE's Senior Interior Designer, Samantha Butcher, provides some of the top design trends you should watch.
USE OF COLOR
2022 was all about soothing color palettes, and 2023 brings bright, statement-making colors to the forefront. While neutrals will still be going strong, they will be complemented by saturated colors and patterns. As the market welcomes the entrance of millennial entrepreneurs, they are bringing the shiny, bold, and vibrant colors they love.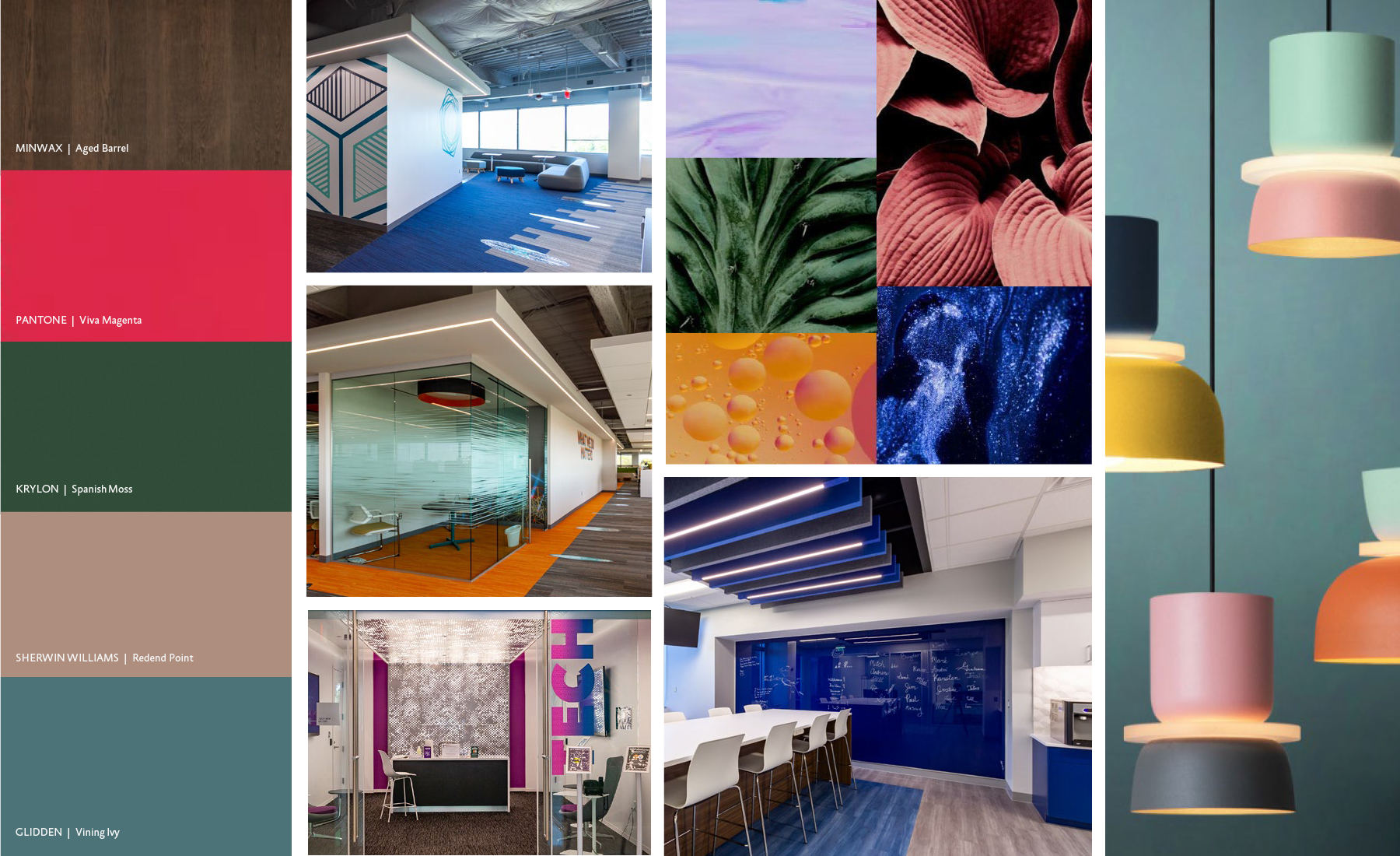 While minimalism has been the rage in recent years, bold and bright is the way of the future. Designers are using pops of colors in various ways to bring visual interest into space. Warm, calming colors like corals, apricots, russets, and zesty oranges are becoming more prevalent in design. Opt for pale shades of blue and green for a more sophisticated, subtle interjection of color. These colors read closer to white but are a new way of working with color. While neutrals will always be a constant in design, they will be complemented by bold colors and prints in the years to come. Be cautious when choosing your shades; color can impact a space's mood and size perception.
Color is a great way to distinguish "zones" within open spaces. It can create cozy, relaxed spaces providing employees a place to step away and take a break, or it can add energy and fun to encourage socialization and foster work relationships.
Per an August 2022 AIA article, we see warmer tones explode. Oranges and yellows have been trending, and deep green is taken on the role of a deep neutral, a space that navy blue has held for a long time.
While every organization has a "color of the year," as demonstrated to the left, they all agree that bold, rich, saturated colors are the "trending" colors of 2023, with variations of blues, greens, and raspberry on every list.
GEOMETRIC PATTERNS
From wood planks, natural stone tiles, acoustic ceiling panels, and metal room dividers, creating geometric patterns is a great way to generate interest in design elements and locations that are often forgotten. Rather than going for standard products that suit any space, opt to customize a pattern or color. Geometry and pattern don't need to be just the fabric on the chair – they are the statement for a brand.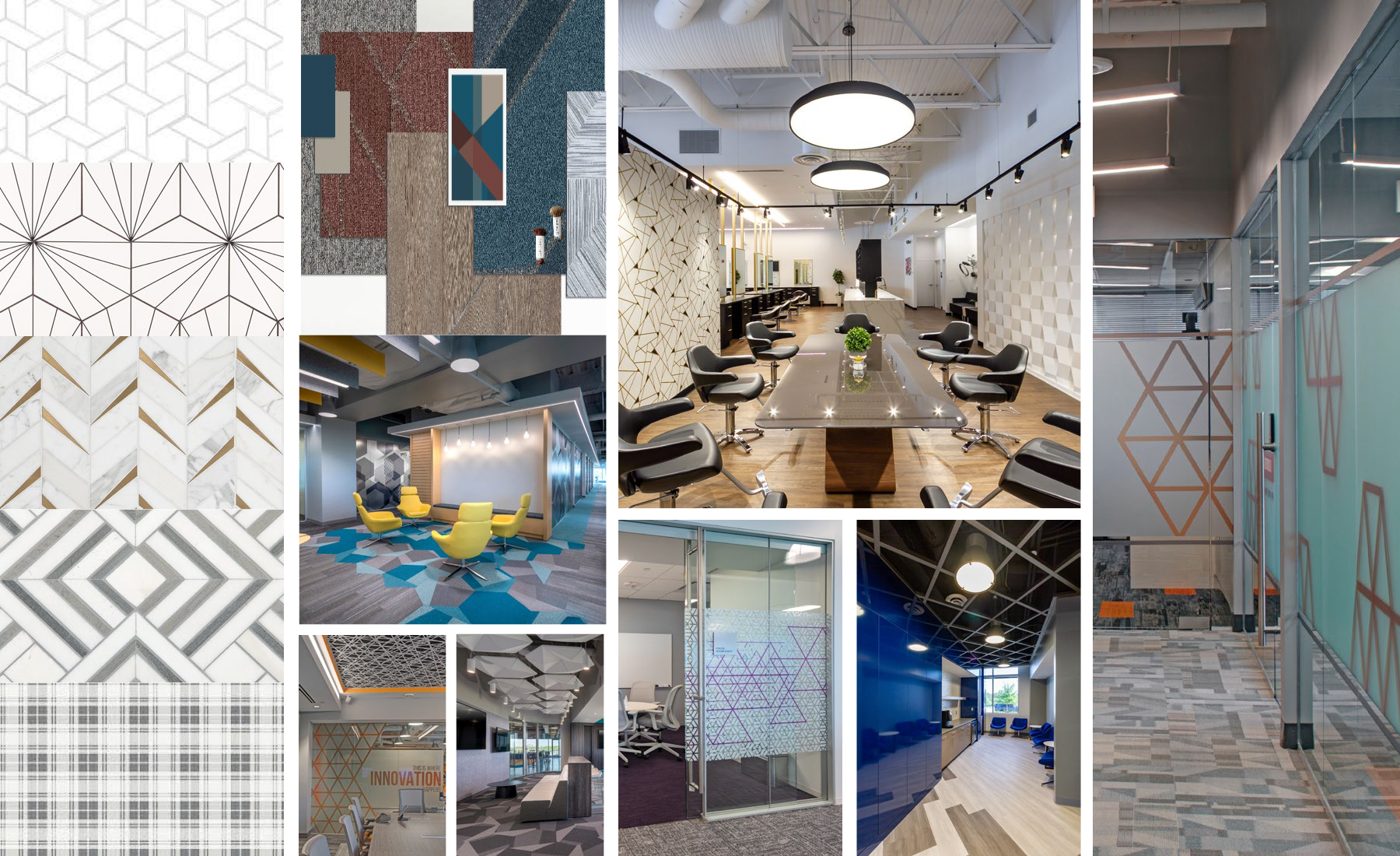 Geometric patterns are expected to be very popular in 2023. These patterns can range from chevron stripes to Greek key designs. They can be applied to walls, floors, ceilings, and furniture and be created using various materials. Plaids, hexagons, diamonds, chevrons, and other geometric shapes help to create a whimsical yet sophisticated look.
Geometric patterns are a great way to create visual interest. Remember, a little can go a long way when it comes to patterns. You can apply the "golden ratio" to ensure that your pattern does not overwhelm the space. In interior design, the ratio usually breaks down to; 60% neutral colors, 30% dark colors, 10% accents in warm colors, and 5% of accents in bright colors.
Years of minimalist interiors are giving way to triangles, circles, rectangles, cubes, cylinders, and 3-dimensional grids. Geometric patterns are being featured predominantly in flooring trends. This is particularly true in carpet tiles, spurred on by the greater number of shapes now available, such as different-sized squares, planks, and hexagons. To create shapes and patterns, you can also use carpet tiles and their layout. A mixture of sizes, colors, and patterns can indicate quiet or activity zones or even promote social distancing. Mixing these geometric-shaped carpet tiles with a tile or wood floor ties nicely into the trend of mixing materials and, depending on the products used, even sustainable design.
MIXED MATERIALS
When 2022 began, nerves were still "raw" from months of pandemic-induced stress and left us craving one of the most 'human' senses; touch. To satiate with craving, 2023 designs will provide us with tactile fabrics, ceramic and metal mosaic tiles, and various wood species sharing the same visual space. Open spaces will mix tile, wood, and carpet on the floors and walls to create visual interest and designate the space's function. Installing different species of greenery will circle back to using a more sustainable design while providing another textural material to the space.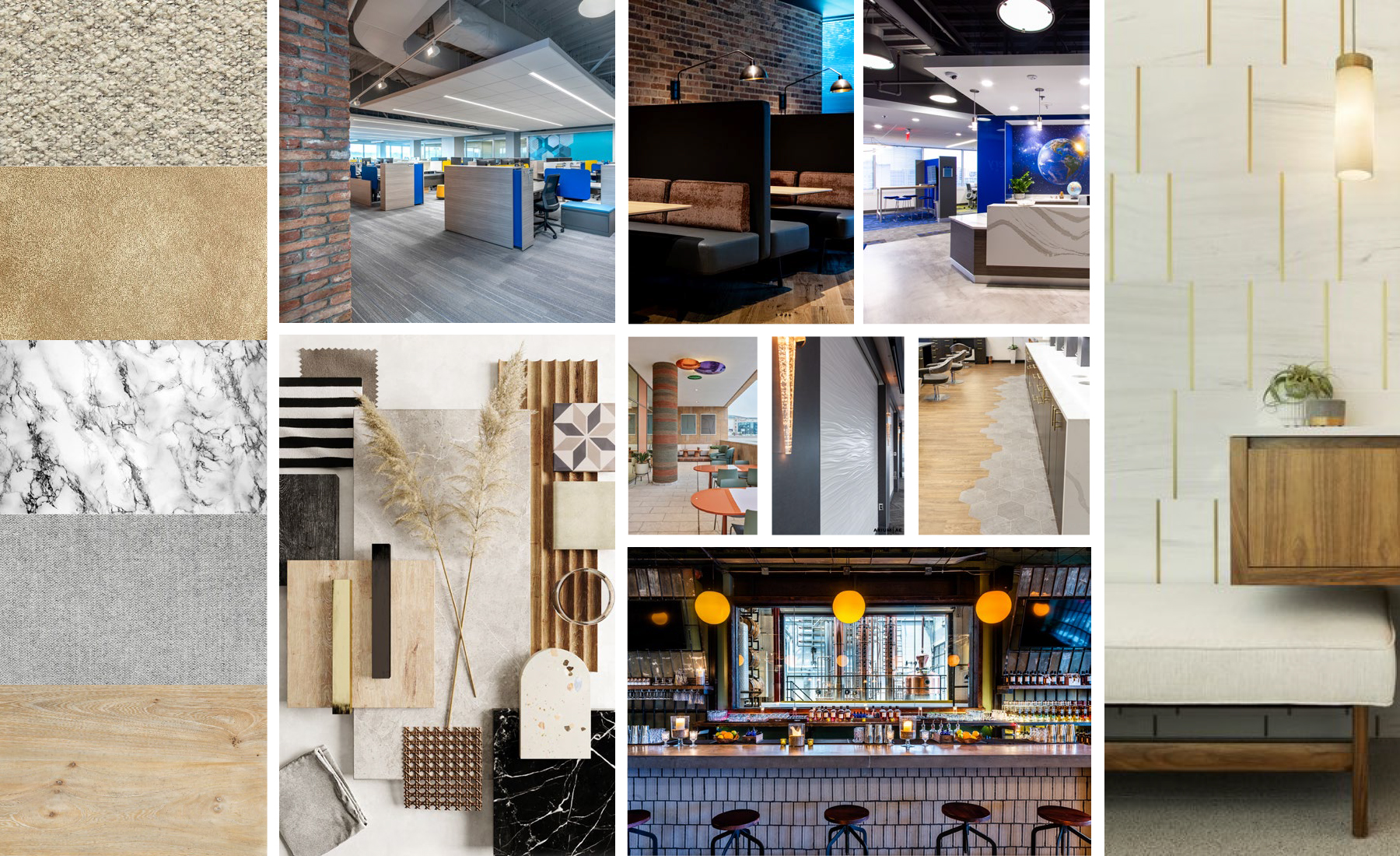 Tying into sustainability, mixing materials is a big trend predicted for 2023. This means combining different types of materials – wood, stone, and metal – to create an interesting and memorable effect. Mixed materials can also add texture and layers to a space. By mixing materials, you can add depth and feeling to a space while also helping to differentiate the function of the area. Brick, natural wool, and marble will be highlighted along with richer woods like walnut, cherry, and red oak as the desire for bolder design and color becomes more prevalent. Keep in mind that the best colors, textures, and patterns come from nature.
Wood – Wood can help make a space feel warm and inviting. It adds a residential feeling and sense of nature that can be soothing and calming for those in the space.
Metal – Metal can be used to add a sense of sophistication to a space, or it can provide an industrial vibe. Using natural metals like copper and brass ties back into sustainable design.
Stone – Stone elements can add a sense of stability and modernity to a design. Stone can be used on floors and walls as a field or accent.
Material – Tactile materials will be especially popular in the coming year as people crave a 'multi-sensory palette.' Relaxed sophistication will continue to dominate interiors, and materials such as mohair, bouclé, and velvets can help designers achieve this feeling.
SUSTAINABLE DESIGN
A large portion of what a company does to be more sustainable is outside the realm of design. However, what design can offer in the way of sustainability includes, but is not limited to, biophilic design, utilizing recycled materials, and LED lighting. It is also important for architects and designers to focus on long-term strategies – waste disposal, efficient MEP systems, and better construction methods, to name a few.
Companies worldwide are making conscience efforts to go eco-friendly in all aspects, including their offices. In 2023, we can expect to see an increased use of organic materials in everything from building finishes to office furniture. While you always want to keep your client's needs in mind, there are many ways to make a space more sustainable. Some sustainable design features to consider are:
Energy-Efficient Lighting – There is more to energy-efficient lighting than just LED fixtures and bulbs. You can reuse energy, use renewable resources like solar panels, and be conscience of efficiency when designing buildings.
Eco-Friendly Furniture – Eco-friendly (or sustainable) furniture is any furniture made with the lowest possible environmental impact. It utilizes reclaimed, recycled, or sustainable materials that can be recycled or repurposed at the end of their life.
Prioritize Organic Materials in Common Spaces – This includes everything from wood to stone to bamboo. In addition to being environmentally friendly, organic materials add warmth and refinement to a space.
Low-VOC Paint and Finishes – Volatile Organic Compounds/Chemicals (VOC) are found in many building materials that give off gases that can build up and harm people and the environment. In paints, VOCs are the medium that helps the paint glide onto a surface. To be environmentally friendly, paint companies offer "low VOC" or "no VOC." Low VOC means the paint contains less than 50 grams/liter of volatile organic compounds. No VOC or Zero VOC paint can still have some VOCs, but it must be less than 5 grams/liter. Be aware that no or low VOC paints may still contain other harmful chemicals, and if you are mixing in color, the process often adds VOCs.
Recycled or Refurbished Design Elements – You can create construction elements by re-designing the role of old objects. It can be as small as using wood from packaging for a feature wall or water bottles as light fixtures to as big as converting a shipping container into a bathroom. Your imagination is the only limitation to upcycling materials.
Arium AE offers a full-service, integrated design practice that balances sophisticated design and functional solutions. Our collaborative studio brings together 36 architects, interior designers, electrical and mechanical engineers, planners, and green professionals. We'd love to hear about your next project; please get in touch with us at info@ariumae.com.
Samantha Butcher, NCIDQ, ASID
Senior Interior Designer
Arium AE