Top 10 Hygienic Minded Building Improvements
by Arium
04 14 2020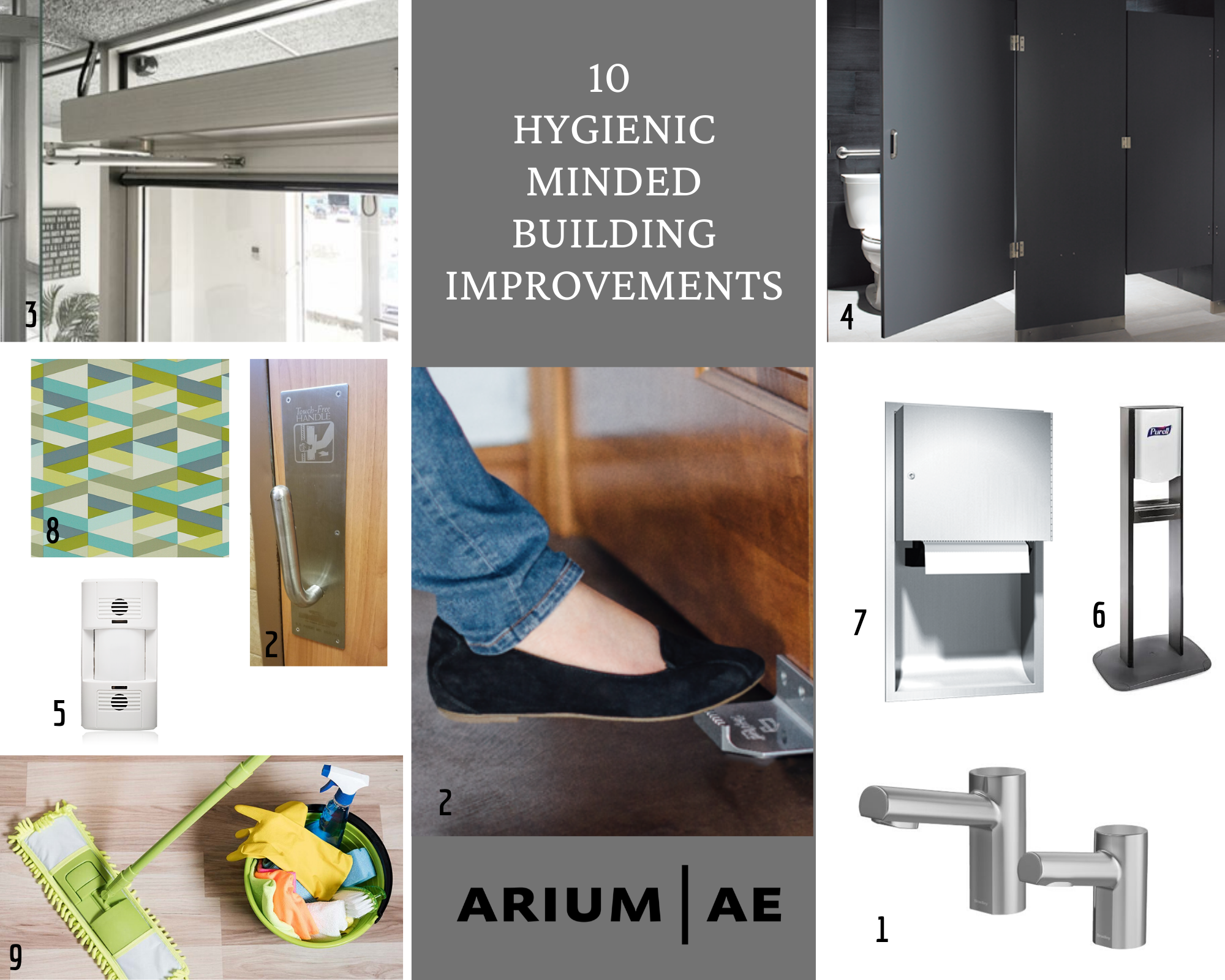 During this unprecedented time, we are inundated with information on avoiding transmission and spread of COVID-19. As a building owner, you may be thinking of ways to do your part and help protect the health and wellbeing of the people who occupy your spaces. Here is a list Arium's Interior Design Studio put together that not only helps stop the transmission of COVID-19 and other illnesses during cold and flu season, but also provides an opportunity to make building improvements and ADA compliance upgrades.
Think Hands Free!
Hands free is one of the most effective ways to reduce virus and bacteria transmission.
01 – Replace existing manual restroom fixtures for automatic plumbing fixtures. This can include toilet flush valves, soap dispenser, faucet, hand dryers and paper towel dispensers. Make sure your hand-dryers are high quality with HEPA filters. Change the filters on a regular basis to maximize efficiency and cleanliness. If the restrooms have inward swinging doors, consider locating automatic paper towel dispensers and a waste basket near the exit.
02 – Install hand and foot pulls, especially at the restroom door. Don't undo all efforts of replacing the restroom fixtures by not addressing the door pull. What would have been clean hands are now potentially contaminated again by pulling the door handle.
03 – Install automatic door openers (door operators) at public and high traffic areas. There are models that can be retrofitted on existing doors for different conditions: single, double and sliding doors with push or pull mechanism.
04 – Out-swinging doors in a multi-stall restroom: In new construction it is good practice to install swing doors in direction of egress. By doing so, you're eliminating the need for a user to contact a door handle.  Consider modifying existing multi-stalled restroom doors to swing outward where possible.
05 – Replace traditional light switches for occupancy and motion sensors in existing conditions. In new construction many areas will require them by code. Not only is it one less surface to touch but will also reduce energy consumption.
06 – Put hand sanitizing stations at building entrance, exits and elevator lobbies and other building shared amenity spaces
07 – Consider Paper Towels in addition to hand dryers. Relying solely on hand dryers creates situations in which those personally uncomfortable using the hand dryer have no choice but to touch surfaces with wet hands which is commonly considered a less hygienic situation. Provide a trash receptacle near the door for these towels.
08 – When selecting furniture and upholstery, consider fabrics that are bleach cleanable for high traffic areas. Your designer can assist you in specifying fabrics that are 100% solution dyed nylon, silicon, or polyurethane that can be cleaned with a number of different cleaning agents. Clorox bleach and water solution, peroxide, and germicidal wipes are to name a few.
09 – Follow a regular cleaning and maintenance schedule. Ensure that building maintenance and janitorial services are using the appropriate chemicals and cleaning solutions on each surface. Light switches, door handles and handrails should be included. This not only ensures that surfaces are being sanitized appropriately but also ensures that the integrity of the surface is maintained, and product warranty is protected. Antimicrobial technologies incorporated directly into surfaces is already in the marketplace, but we expect to see them being utilized by more manufacturers in the near future.
10 – When access to your space is limited due to construction, virus concerns or tenant access requirements, consider using digital technologies to market and showcase your facility. Architects can assist you with the creation of photo realistic renderings and digital fly throughs as well as a full range of other marketing material to allow your perspective tenants to virtually experience the space without physically being there.
If you'd like to discuss more hygienic minded building improvements feel free to email us at info@ariumae.com.