Top 10 Things to Know about Brewery Design post COVID-19
by Arium
06 30 2020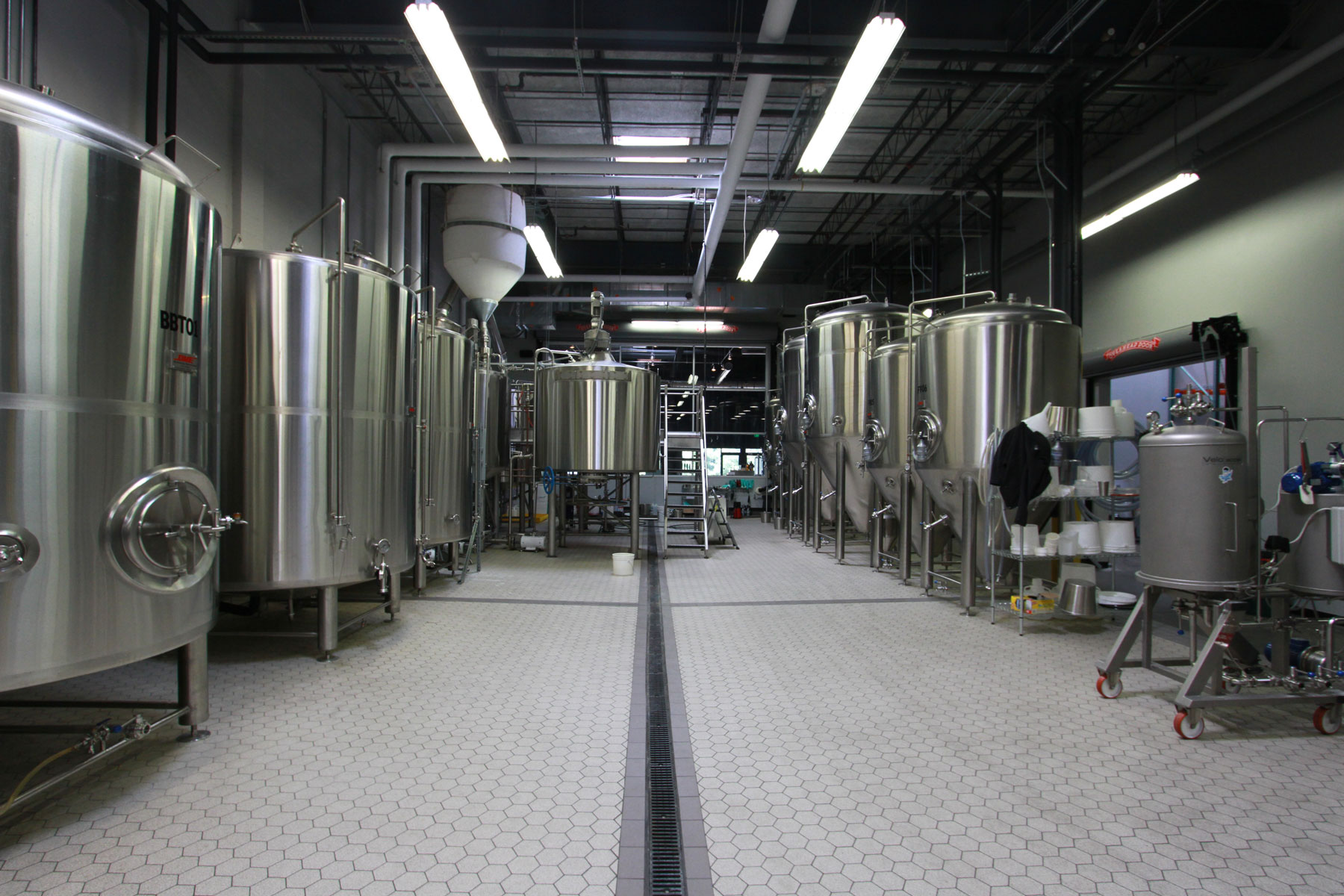 Arium AE's Principal Brian Frels was recently invited to participate in the 2020 BAM Technical Summit to discuss "Selecting & Designing Your New Brewery or Brewery Expansion." Special thanks to Brian Tarantino and Tarantino Engineering Consultants for participating with us. Our blog this week is expanding on our previous Top 10 Things to Know about Brewery Design and speaking specifically about the current COVID-19 impacts we are seeing on the design of breweries and taprooms. As with all things COVID-19, this list is certainly an evolving work in progress. Download the COVID-19 Top 10 PDF here. 
1- HVAC – Fresh Air, Dilution and Filtration
There are dozens if not hundreds of articles on the health and safety of indoor air supply with regard to COVID-19 but limited actual research.  Until more conclusive research is complete, one of the most effective measures in a taproom or brewery is dilution of the air.  We expect more open windows and don't expect to see the trend of overhead doors going away anytime soon. Regular replacement of HVAC filters will continue to be an important maintenance item.  Moving forward, we expect to see sophisticated UV systems and Bipolar ionization that will further improve the air quality and filtration.
2- Customer Flow – To Go Pick Up
Breweries often cater to fluctuating volumes of customers and are accustomed to separating bar seats and designating space for walk up bar orders.  Now with the growth of online ordering and increase of To Go pick up sales due to COVID-19, there is an increasing demand for dedicated customer product staging areas designated for touchless pick up.  Efficiently meeting these new space demands in the valuable taproom space will be challenge for designers.  We may see more separate entrances and exits to separate directional traffic.  Breweries that currently have outdoor seating and an exterior window service point are already using this to their advantage and limiting interior traffic while maximizing the use of their outdoor space.  We expect these features will become more common.
3- Seating Options
Needs for seating flexibility and patron seating options will continue to grow due to COVID-19.  We expect to see less large fixed communal tables and more smaller table settings that can be rearranged and moved based on changing seating needs and taproom flow.  While we don't expect bar seating to completely go away, breweries with varied options and spacing will be able to better cater to the comfort and safety preferences of their patrons.  Designers may want to consider alternate bar seat locations around the taproom that can easily convert from standing space to bar height space when bar seats must be relocated.  Designers should never forget about the views from these seats.  While it is tempting to line a wall with seats, who really wants to sit and stare at a wall?  If your patrons are not partially paying for your atmosphere… then what are they paying for?  It almost goes without saying that the demand for exterior seating and serving options will increase.  Farm breweries may be in best positioned to capitalize on this need.
4- Loading Dock Flexibility
Even before COVID-19, breweries demand a fairly flexible loading dock arrangement.  They need to serve a range of vehicle types from full size trucks to utility vans to farm trucks hauling off their spent grain.  Websites like biermi.com and COVID-19 have increased the practicality and legality of self-distribution at a residential scale.  This distribution model further emphasizes the need for this flexibility at the loading dock.  Work with your architect to help explore the functional and practical trade-offs between vehicle ramps, full size dock heights and dock lifts that need to be considered for your brewery location.
5- Table Service and Taproom Ordering
While COVID-19 continues to evolve beer delivery and distribution outside of the brewery, delivery within the brewery is also changing.  We expect that breweries will be working to ensure more control over the beverage from the tap to the customer.  In some cases, this may mean more direct to customer counter type serve points but likely less self-serve opportunities.  We may also see more digital ordering from smart phones and modifications in packaging and glassware.  The casual atmosphere of a brewery lends itself to these evolutions.  Additional waitstaff may be needed to prep, clean and turn over tables.
6- Flexible / Multiple Serving Points
Breweries have been working to manage bottlenecks by providing multiple serving points.  We expect this trend will continue to minimize lines and maximize flexibility and control of the beverage.  Mobile serving points can provide additional flexibility as traffic flow patterns are adjusted.
7- Surfaces
COVID-19 is bringing a new emphasis on the need for cleanability.  Modest budgets and a desire to create particular atmospheres have resulted in more creative uses of reclaimed materials, wood, and other less wipeable surfaces.  We expect more nonporous surfaces or coatings, antimicrobial treatments and generally more wipeable surfaces being designed and installed.
8- Tours and Access
We expect to see more safety guidelines and precautions for brewery tours once they resume.  Tour sequences in a brewery should be planned out from day one.  Work with your architect to determine which of your spaces is public and which is private to establish a plan for the demarcation of those boundaries.  Similar to other attractions like zoos and aquariums, a well designed brewery tour path can provide an unobstructed view of the facility while keeping both the product and the patrons safe.  Tour planning and access can happen after the fact, but when a plan is conceived from the beginning the user experience can be so much better.
9- Material Shortages and Delays
COVID-19 is already having an impact on construction and building material supply chains.  We expect that future disruptions may be more regional or site specific and less national or international.  This should provide breweries with more options than has been the case over the past few months.  Brewery designers should be cautious about proprietary selections of products and materials but equally attentive to any alternatives your General Contractor may be recommending based on cost or availability.  Your architect and engineering team can assist you with "equal to" substitutions and protect your investment. 
10- Restroom Design
Restrooms will continue to evolve as they have been in recent years.  Touchless fixtures will become even more common place.  We expect to see more single occupant restrooms or full height partitions within multi-stall restrooms.  During design, traffic flows into and out of the restroom should be considered and preference should be given to out swinging doors whenever possible.  As touchless fixtures become more commonplace, consideration should be given impacts the removal of paper towels may have on the wider population utilizing the restroom.  Barriers to sanitation should be reduced or removed all together.