Work From Home Tips
by Arium
04 21 2020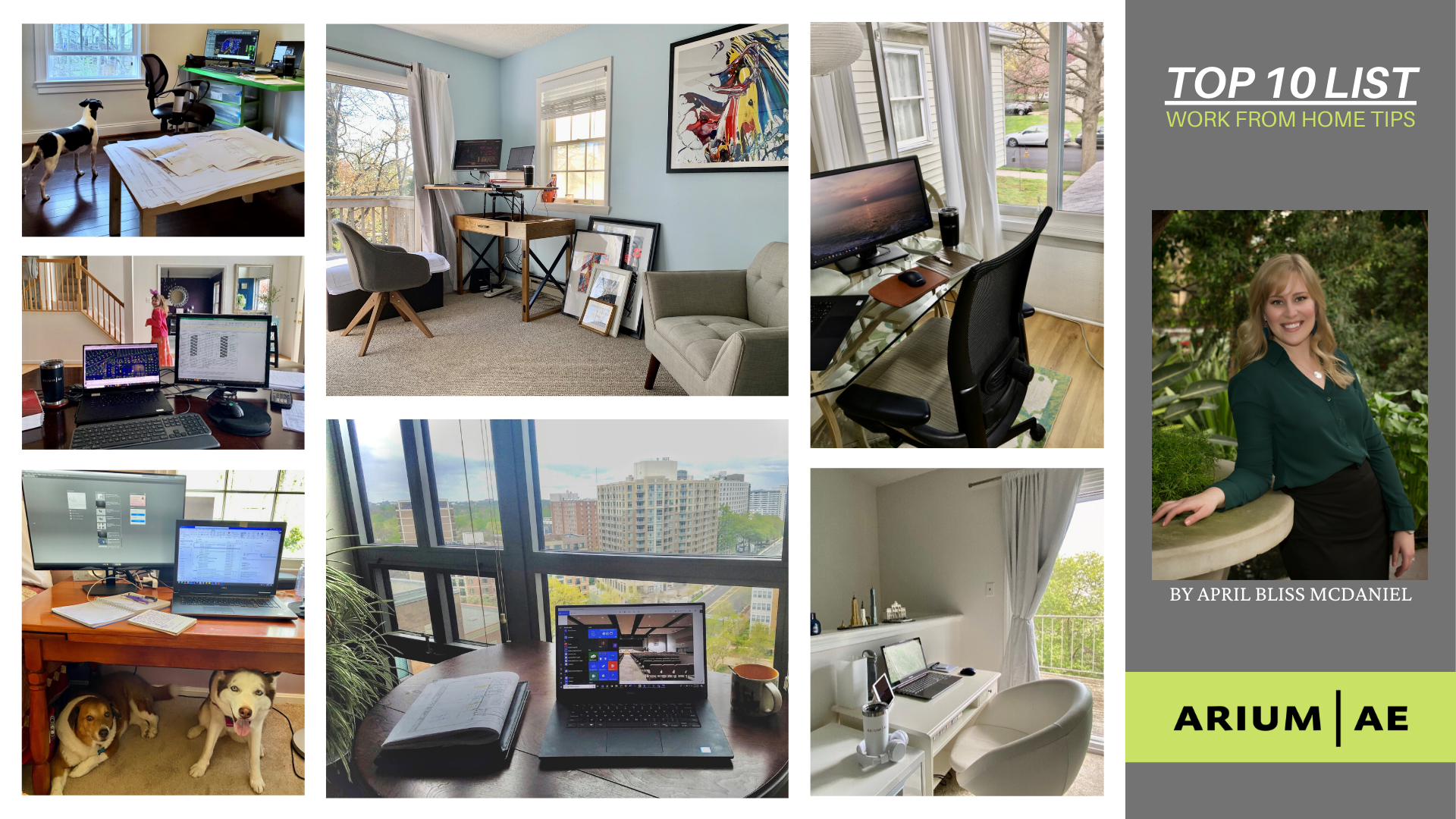 The dedicated staff at Arium AE continues to satisfy client requests and meet project deadlines. Whether that means working from home or the office — the job gets done.
One of the designers on staff, April Bliss McDaniel, has put together her TOP 10 LIST of tips while you WFH (Work From Home):
01 – Keep a schedule like you would any other day, but modified for your new reality. This will help keep you focused and organized.
02 – Have a dedicated workspace that is not crowded with other things. Sit in an ergonomic chair that provides adequate support to your comfort level.
03 – If possible, get a second computer monitor and make sure the screens are at equal height to avoid eye strain and fatigue.
04 – Consider setting up your workspace near a window to take advantage of natural light and nature. My family recently just put up a bird feeder and have loved seeing the cardinals!
05 – As silly as it sounds, take a shower and get ready every day as if it's a regular day going into the office… even if you are wearing your most comfortable lounge wear.
06 – Eat healthy; avoid grazing all day. Drink water, water, and more water!
07 – Stay connected with your coworkers as much as possible. Opt for video calls whenever possible. When setting up a video call, make sure you make that known to all attendees.
08 – Fit in a workout before/after work to get the endorphins going. If not, take a walk around your neighborhood while practicing safe social distancing during your lunch break.
09 – Share praise, wins, humor and positivity with your co-workers. Check in on the well-being of your co-workers. Be a virtual TEAM player!
10 – Finally, take a moment to thank your vendors and clients for their patience and hard work as well.
The montage of photos above were submitted by Arium AE designers to show how they WFH!